Remembering Our Founder
Dr. Thomas H. Langevin
March 20, 1922 – October 31, 2022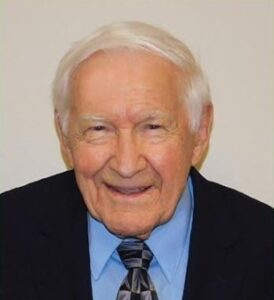 As many of you know, Tom Langevin co-founded The Registry with the late Allen Koenig. The Registry initiated and accelerated a new trend in American higher education—the utilization of outside interim presidents. A decade later the membership and the span of interim positions expanded to include senior administrators. We now have over 1,000 members. We are so glad to be a part of the legacy that Tom created.
Tom served as Vice President and President at multiple colleges and universities throughout his career. He then went on to form Thomas H. Langevin & Associates, Inc. as a higher education consulting firm. He coordinated curriculum consultations at more than 30 Lutheran Education Conference of North America colleges and performed institution-wide assessments of presidents, boards, and administrators. This led Tom to co-found The Registry for College and University Presidents, where he had been ever since.
In March, 2022, Tom turned 100 years old! Tom was happily residing in Florida and taking advantage of all that his community had to offer. Age never slowed Tom down; he had a very active life in the religious and social circles that he formed. Tom wrote multiple books in recent years and was still an integral part of The Registry team.
The reason we are all here today is because of Tom, so please join us in remembering all that Tom did to bring us together!
HIRE AN INTERIM
Searching for an Interim?
Please contact us for more information.
NOMINATE A PEER
Contact the Registry for more information.