Calamity Kelly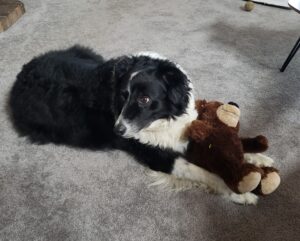 Barbara is currently serving as an Interim Director of the School of Nursing at Northern Arizona University.  Barbara and her husband Verne's dog is a 7-year old Border Collie named Calamity Kelly.   As Barb states, "She was given this name because she has totally caused a calamity in our lives. Our world is guided by hers in no uncertain terms, and she has caused us to learn 'dog speak.'"
Barb has several clearly-developed recommendations for bringing a dog or cat on an Interim assignment, the first of which is, "If a pet is not allowed on the assignment, do not consider it."
Additionally:
• Make sure the Registry and the employer are aware of this at the beginning. For us it is a make-or-break deal. Why? For one reason, Calamity Kelly's excitement is a very welcome greeting after a day in the Office.
• A dog with manners is easier to introduce to new people and places, so spend time keeping their manners intact. Kelly picks up her toys and puts them back in the toy box. In our view, she uses each toy to display a different emotion.
• Be prepared to plan exercise outings with your pet and stick to the routine. Dogs thrive on routine.
• Find a local vet who is respected in the community and lives nearby. Make sure you also know where the 24-hour emergency clinic is along with its phone number.
• If your pet tolerates new people, take them with you to meet your new team at events where pets are allowed. Many people like four legged creatures who are polite and want to meet them. This is a positive experience for everyone, and I have found it helps to break the ice.
HIRE AN INTERIM
Searching for an Interim?
Please contact us for more information.
NOMINATE A PEER
Contact the Registry for more information.