The Interim Presidency Amidst COVID-19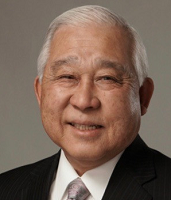 Dr. Roy Saigo
Interim President
Westfield State University (Westfield, Massachusetts)
[Editor's Note: This article is derived from excerpts from an interview with Dr. Roy Saigo, Galen Hench, and Dr. Jim Martin]
Chronicles: How have your roles as a president changed in the pandemic?
Roy: It has been quite a change. The thing I miss the most is dealing with sports, concerts, meals with the faculty, staff, students, and donors. I miss being involved in the town and gown relationships.
When I came in, after analyzing our financials, we told the Board that we were down approximately $7.5 million dollars. This institution had been bleeding enrollment. What the pandemic has done is to expose weaknesses in the system. The Pandemic created a perfect storm to expose the gaps and weaknesses of the institution.
To identify where we might be able to cut back, I created a committee of 22 people including essential workers, professional staff, and members of the faculty union. Since we were down $7.5 million, the first thing we did was to freeze everything. We investigated where we could make cutbacks, and we found $6.4 million. I was pleased with our initial analysis, but much work lay ahead.
For example, we investigated costs associated with alternative professional responsibilities, including adjunct salaries, and we discovered that we had close to $4.2 million in unnecessary expenditures. At roughly $6,000 per section, that was a lot of adjunct teaching allocated for students no longer enrolled.
We needed to find other areas where we could make cutbacks. In all, the committee proposed 20 recommendations, including academic restructuring of the colleges into schools. We are bringing the continuing education program into the day school, which will allow us to reduce 20 or so staff due to redundancies. We are removing the self-limiting caps and are reducing the $4.2 million we spend on adjuncts by almost $2 million, perhaps more. We were able to make these reductions because of the enrollment decline from around 6,000 students to around 3,500 students.
To realize additional costs savings, we are streamlining student services, collapsing student affairs and enrollment management to sit beneath the Provost. These positions will now be at the Executive Director level as opposed to Vice President. We are similarly restructuring the VP of Development role into that of an Executive Director.
From these and other changes, we expect to see a savings of $7 to $10 million a year.
Chronicles: How has the fact that you are an Interim helped you lead your institution?
Roy: Prior to my arrival, the former president received a vote of no confidence. The local paper interviewed the chair of the board and members of the faculty, and it was written publicly how displeased the faculty were with the president.
After several months in the assignment, I learned that the faculty were interested in pushing me to become permanent. My interim contract is for one year. The search chair and the chairman of the board said that the faculty wanted me to serve as interim for two years, and I said no.
By not being permanent, I am able to do what is needed to be done to make change happen. As the interim, I do not have to worry about kowtowing to either side; I do not have to worry about becoming enmeshed in faculty politics.
I will be wrapping up this assignment in June. I received a letter that was sent originally to the board of trustees by the university efficiency, advisory, and analysis committee. The letter stated that they have given me APA and MSCA support—100% support—that these groups will support any decisions made by the committee and the interim president.  We are making major changes, and yet we have the complete support of the faculty union which is practically unheard of.
Chronicles: As new Registry Interim presidents are appointed this Spring and Summer, what are two pieces of advice you would offer to them as they begin?
Roy: Number one:  Why is the institution seeking an interim president? Generally, if there is a transition, an institution will have time to conduct a search. So, if they are seeking an interim, find out the background to this decision.
Second, if possible, before you arrive, identify who the main players are on and around the campus. I scheduled a group of introductory appointments on Zoom, and I learned a lot through those conversations. When I serve as an interim, I always live in the dorms. I did that at Southern Oregon, and I am doing that here. I make the best friends, the best connections, just walking around the campus and talking to people.
HIRE AN INTERIM
Searching for an Interim?
Please contact us for more information.
NOMINATE A PEER
Contact the Registry for more information.