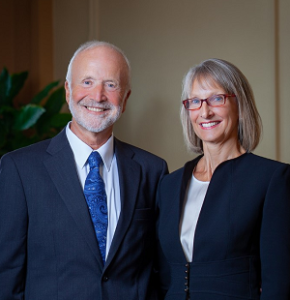 Crucial Conversations: The Role of the Interim's Spouse or Partner
Chris Plunkett and John Watson
Interim President (Chris)
Iowa Wesleyan University (Mount Pleasant, Iowa)
August 2019 – August 2020
Christine joined The Registry when we lived in central Vermont where jobs in higher ed are few and far between. As President of Burlington College, a very small Vermont school, she once hired a consulting Registry member and was quite impressed and pleased with the work he did, so when it was time for her to move on, she pursued Registry membership for herself. It was one of her very best career decisions. As a couple, we both believe in and support the mission of The Registry, and we think that our outlook contributes significantly to the enthusiasm we feel in accepting new and possibly adventurous assignments. 
We realized we were tethered to New England only for as long as and as much as we wished to be. Our five children were grown and out on their own. We simply chose not to be tied to our then-current house and habits. Chris accepted an offer for the CFO position at Iowa Wesleyan. We kept our Vermont home but arranged to rent it out during our possibly prolonged absence. We then set out for Iowa. It has been a great adventure. And we are still free to return to Vermont should we choose to do so.
How, as a couple, did we decide to accept a Registry position in the first place?
We joined The Registry because it offered a way to see new places and new faces, and because we believed in the organization's mission and its business strategy. Chris became a Registry member in 2015 while doing extended consulting for her previous employer in northern Vermont. 
As a couple, we lived in Vermont for 25 years. Chris grew up in the Green Mountain state. But she believed she was professionally right for the Iowa Wesleyan job. Sooner than we had imagined, we were faced with the immediate decision of whether to schedule an interview halfway across the country. Our five children lived mostly in the East, and none were in the Midwest. We knew nothing about Iowa. John was in his tenth year at a job in Vermont that he enjoyed and had not planned to leave anytime soon. But we had not signed on with the Registry expecting to find a CFO placement anywhere near our home. We took a leap. Chris went to Iowa for an interview. Within days, Iowa Wesleyan selected her for the job.  She poured herself into that role for a year. Over four years later she is still there (now as President.) 
John remained in Vermont for two years, finishing out his IT career. Finding suitable work for him in Mount Pleasant, Iowa would have been hard anyway, so we prioritized Chris's career. Perhaps this was relatively easy for us because John was already beyond "normal" retirement age. We did a lot of long-distance travel for those two years. We logged more hours on the phone than either of us had done since our teenage years. We didn't know at the time that the job would extend beyond a year. John's remaining in Vermont gave us a stable home base while Chris set out on the adventure.
How, as a couple, did we decide to accept an extension of the initial placement?
This was a different decision. Taking the first step of accepting an initial placement had meant learning the new locale and the new college (which soon rebranded itself as a university.) It also meant learning first-hand what it meant to be an active Registry member. Deciding to extend, on the other hand, meant evaluating the first year's experience. Chris did not have to stay on. The Registry is careful to let members know that they are under no obligation to extend.
We came to love living in Iowa. We're not native Midwesterners, we never will be Midwesterners, and we will always be viewed as "from away" as they say in Iowa (and in Vermont too, for that matter.) But getting unstuck from our native New England has been exciting. And the job itself, after a year, had been both challenging and gratifying for Chris. We had made it work for a year. Another year looked both easy and inviting.
Two years turned into three. Then three years turned into four. Midway through the four years, John retired from his career in Vermont and moved to Iowa. We packed all our household effects in a Vermont warehouse, and rented out our home. It is a 200-year-old antique village house, so making it ready for rental was a challenge. But we were motivated, and we just did it.  It felt liberating. We still have the house, and we think we will return to it someday. But not tomorrow, next week, next month, or even next year.
How, as a couple, did Chris/we decide to accept a more senior role (in this case, President)?
We accepted the new role. As of now, we are just two months into Chris's new one-year (nominal) contract.
This was a hard decision for several reasons, one of which was personal. During our stay in Iowa, we acquired new four grandchildren, all back East. In her fourth year as CFO, Chris had given generous advance notice that she was fully intending to try for an East Coast assignment after our fourth year in Iowa. The IW Board of Trustees responded by asking her to step in as President, after the incumbent President announced his retirement. Apart from whatever pro and con professional factors Chris considered, there was the prospect of missing at least another year of being closer to the grandchildren. Chris ultimately accepted, on the condition that she be granted sufficient additional vacation time to visit family.
There were two further considerations that many Registry members might readily understand. (1) Chris had come to appreciate the fact that Registry members owe some of their unique effectiveness precisely to the interim nature of their assignments. They are privileged (or perhaps tasked) to take on their assignment as expert consultants. They have credibility. But however strong their performance, time will dim their initial glow. It is probably possible to overstay a Registry placement. (2) Registry members are thankfully exempt from some of the internal political struggles of academic (and corporate) organizations. They do not need to climb the career ladder. They can get on with their job and then just move on to a new assignment.  But the longer one stays on the easier it becomes to be drawn into internal politics, and that may reduce the member's effectiveness. Again, it is probably possible to overstay a Registry placement.
Ultimately, Chris decided that she retained enough good will from all parties to make the professional risk acceptable. And as with her initial Registry placement, the new contract is for just a year.
But there was one final consideration. In Chris's case, the new role was President. The decision to accept that job was perhaps particularly difficult, because the President's desk is "where the buck stops." The job is a consuming one, and it makes demands on a spouse as well as on a member. We already knew what that was like, having lived it previously. As a Registry member, Chris had very deliberately signed on to be a CFO. We had not anticipated this new development, and we both had to ask ourselves if we were up for the challenge to each of us individually and as a couple. There is no rationalizing that decision. We just talked it out and said yes.
HIRE AN INTERIM
Searching for an Interim?
Please contact us for more information.
NOMINATE A PEER
Contact the Registry for more information.