News and Updates About The Registry's 27th Annual Seminar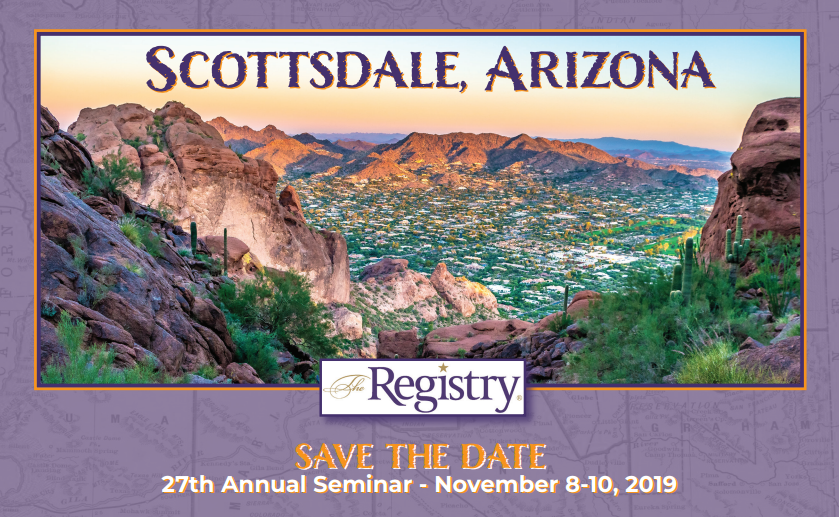 We are excited to invite you to The Registry's 27th Annual Seminar, which will be taking place in Scottsdale, Arizona between November 8th – 10th. The Seminar will be held at the JW Marriott Camelback Inn Resort & Spa. See below for key details and information:
Want to Make Hotel Reservations?
To make reservations, simply call (800)-582-2169. Room rates for single/double occupancy are just $229 per night. At the time you make your reservation, please inform the hotel that you are with The Registry in order to secure the seminar rate. Each reservation will include a resort fee. Typically, this fee is $35 per night, but we have reserved a special $10 per night rate. Keep in mind that the last day to make a reservation is October 10th. Rooms will likely be sold out by September according to the hotel.
Planning to Fly In?
We encourage members to fly in to Phoenix Sky Harbor International Airport (PHX). From this airport, it is approximately 13 miles to the hotel, or a 20 minute drive. 
Need to Secure Transportation?
A taxi or Uber is approximately $25 one-way per person from the airport to the hotel. Members may also opt to take an airport super shuttle from the airport to the hotel, which is approximately $16 one-way per person. Reservations are not required for transport from the airport to the hotel; however, pickup arrangements must be made in advance to travel from the hotel to the airport. Please call (602)-232-4610 to make your arrangements. 
Whether You Will Attend or Not, Please Contact Amy!
Call or e-mail Amy Miller at: (978)-532-4090 or amy@registryinterim.com
HIRE AN INTERIM
Searching for an Interim?
Please contact us for more information.
NOMINATE A PEER
Contact the Registry for more information.