The Registry Out and About
Registry Interim Honored for Excellence in Service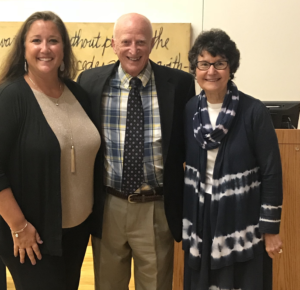 Registry Member Dr. Jerry Ice was recently honored for outstanding service as Interim Academic Dean at Three Rivers Community College. In this role Jerry reported to President Mary Ellen Jukoski, also a Registry member. Vice President Amy Miller was invited to attend Jerry's celebration and offered her prepared remarks. 
Registry Member Bob Bliss Recognized for Life Achievement
Article by: Dr. Jim Martin, Registry Senior Consultant
Many Registry Members rightfully think of themselves as able to turn on a dime to help multiple institutions, if necessary, with leadership needs, yet we wonder if any other Member (and we invite that information for a future issue, if so) has been called "Mr. or Ms. Fixit" in print?   In fact, Bob Bliss was recently termed just that in an article in his local paper, The Charleston West Virginia Gazette.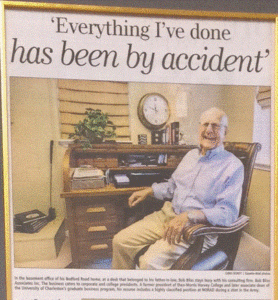 Titled, "Everything I've Done Has Been by Accident:  Consultant Excels as 'Mr. Fixit' in Business and Education," we learn in the piece that Bob's career has ranged from forming his own company, Bliss Enterprises, that re-manufactured diesel engine components, to serving as the president of what is known today as the University of Charleston.
Asked what leadership lesson he might share with Registry Members drawn from his varied accomplishments, Bob immediately answered, "Whatever your position, start by asking a simple question, 'If you were in my position, what is the first challenge you would address . . . ?'  That question easily opened a lot of doors for me."  He added that having held positions in the worlds of business and higher education had helped him succeed in both, in his view, as success was measured differently in each instance.
Enjoying Her Bucket List
Dr. Jackie Armitage flew off to Africa for two weeks to tour the city of Johannesburg and the wilds of the South African bush for an exotic safari. Over the course of her two week adventure Jackie encountered an array of wildlife including cheetahs, lions, elephants, zebra, and more!
The Registry at NACAC 2018 in Salt Lake City, Utah

Vice President Kevin Matthews and Director of Membership Galen Hench traveled to Salt Lake City, Utah for the NACAC Annual Meeting. While we were there, we ran into Registry member, Lauren Mounty, who currently serves as the Vice President of Enrollment Management at Iona College. 
HIRE AN INTERIM
Searching for an Interim?
Please contact us for more information.
NOMINATE A PEER
Contact the Registry for more information.