Embracing Diversity: A Book Review
Dr. Maryrose Eannace
Interim Vice President for Academic Affairs
Jefferson Community College, SUNY (Watertown, New York)
Modern Messages from Green Gables on Loving, Living, and Learning: The Anne Stories 2021, by Dr. Robert V. Smith
This engaging and inventively constructed exploration of Lucy Maude Montgomery's (LMM) Anne of Green Gables books is both a delight to the reader and instructive to our responses to the challenges of our current times.   In the interest of full disclosure, as a youth, I was a fan of the Anne books, although I did not read all the eight books that author Dr. Robert Smith examines in his study.  But, I am unabashedly a fan of Bob's authentic and guided study of those volumes and their message—and intend to read all eight as a result of reading Bob's ingenious work
Part I of the book encapsulates a retelling of the Anne books—the first of which was published in 1908—with the use of liberal, and insightfully selected quotations from the texts that underscore the messages. Most engagingly, these narratives are related via the imaginative use of Anne's voice, as she shares and summarizes her own stories through what the author calls her voice "revivified."
In Part II, the author employs a delightful and artistic conceit of having LMM's life recounted as it is reflected/mirrored in her fictional Anne writings.  By having the Anne books' cast of characters and their stories related to Montgomery's own lived experiences by the voices and lenses of her own characters, Anne Shirley Blythe and her husband, Gilbert, life and fiction reflect upon and illuminate each other and provide yet another new reading and appreciation experience for the reader. This is a daring exercise in literary performance that is accomplished with convincing effect.  Indeed, it works wonderfully well, brings an additional vitality to the narrative and reads without irony.  In both parts of this book, using Anne's and later Anne's and Gilbert's voices brings the reader on a speedy, but insightful journey that refreshes the initial reading of Montgomery's books (for those of us who read Anne books decades ago) and entices readers new to LMM's works to seek out the original works.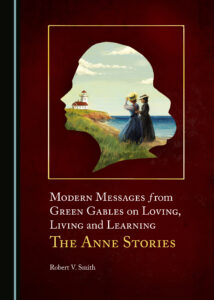 Ultimate lessons shared and underscored in Smith's exploration of Montgomery's writings include the crucial life elements of forgiveness, recovery, understanding, kindness and charity, despair and hope.  That Anne and her author also exhibit resilience in the face of daunting odds is a lesson not lost in this book.  What's more, that the Anne books cover periods of war (WWI) and pestilence (1918 Flu) make Smith's book piercingly relevant to today's turmoil.  Smith also includes important references to issues of women's rights as they evolved during the time span of Montgomery's life—and her participation in the advancement of that movement.
Note that the appendices should not be ignored!  Though not one given to reading appendices (a failing, I know) I found the two appendices in this volume most engaging and illuminating.  Appendix A gives well-constructed summaries of each of the Anne books with carefully selected quotations from the books and informative annotations that position the books in relationship to the age range of Anne during each volume.   The second appendix provides a chronological account of LMM's life with corollaries to her writings. The footnotes in both also attest to the extensive research Author Smith conducted in his writing of this work.
Reading Modern Messages from Green Gables on Loving, Living and Learning: The Anne Stories is personal (especially for those of us who were captivated in our youth by these stories), historical, and applicable to much of what is happening today.  Bob Smith has mined a treasure trove of research and writing about Lucy Maud Montgomery and the connections between her books and her life experiences to bring us a thoroughly enjoyable reading and learning experience.
HIRE AN INTERIM
Searching for an Interim?
Please contact us for more information.
NOMINATE A PEER
Contact the Registry for more information.