Conway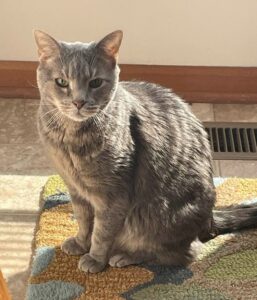 Shana Meyer recently served as Interim Vice President for Student Affairs at St. Mary's College of Maryland.   As this placement involved an extended move from her home in the Midwest, Shana adopted Conway, 13 years old and allegedly named for country music singer, Conway Twitty, after arriving at St. Mary's.
To begin, it is wise for the Interim leader to make sure to account for some adjustment time for the pet in a new location, including in my case, cat-proofing the house that had been offered to me. As Conway adapted to his new home, he found several secret hiding places, and for about a week, I was worried that he had somehow escaped. In fact, the whole St. Mary's campus became involved in searching for Conway who was safe and secure under a kitchen cabinet for much of the time.
Second, it is clear on campuses that a good number of students love animals, in part because they don't have access to them while away at school. Asking students about their own pets and telling them about the elusive Conway was a positive and often fun way to make connections that were not work or school-related.
Finally, cats travel well, and Conway now has more sky miles than many people I know. A simple carrier and a cat cabin reservation (between $95-$125 each way) is all that is needed. Once going through airport security screening, you can carry the cat through the metal detector, or ask for a private screening room where you can hold your pet while security takes the carrier for x-ray. Once onboard, Conway securely fit under the seat in front of me, but to be safe, check with your airline for specific details.
HIRE AN INTERIM
Searching for an Interim?
Please contact us for more information.
NOMINATE A PEER
Contact the Registry for more information.