Anvil & Zee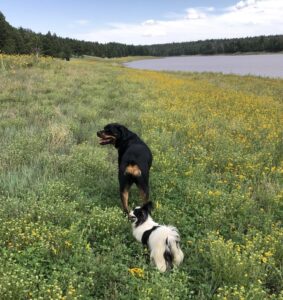 Scott recently served as Interim Vice President for Student Affairs at Northern Arizona University.  He and his wife, Anne-Marie, took two dogs with them, a 100 lb Rottweiler, named Anvil, and a 9 lb Papillon, named Zee.   As Scott observed, they looked like "a ridiculous pair."  
If you have a pet, you know that they provide lots of mental and physical health benefits. They will get you outside and take your mind off the rigors of the day. And when you are on an Interim assignment, whether you are on your own or with a partner and family, pets make any place a home—even temporarily.
Make sure you can find housing that allows pets. NAU was very understanding. The place that they had initially slated for us to live did not take pets. This was a deal-breaker, as we did not have any other option to house our pets. Ultimately, they helped find us a great housing situation.
However, when moving into a new housing situation, still make sure to read the "fine print," as some may have restrictions not only on the type of animal but also on its weight.
Pets helped us meet others in the community beyond the campus. There was a dog park nearby, and it was a wonderful way to interact with those in the community outside of my work colleagues.
Bring all the vet information with you that you need to support your pet. You will likely need it for new vet visits and if you board your pet during your assignment.
Finally, our pets helped us get out and see Arizona in ways we would not have otherwise. They were a welcome reason to find new places to visit and in the process amplified the joy we experienced in our relatively limited time in the placement.
HIRE AN INTERIM
Searching for an Interim?
Please contact us for more information.
NOMINATE A PEER
Contact the Registry for more information.