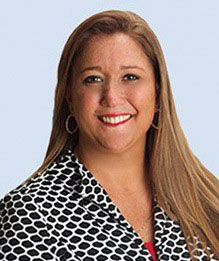 Reflections On the 27th Annual Seminar
Amy Miller
Vice President
The Registry
For our 27th Annual Seminar, we were very excited to head west and host our members and their guests at the scenic Camelback Inn in Scottsdale, Arizona. In total, about 225 attendees and guests were present at the seminar. The conference theme this year focused on New Directions for the Academy and focused on current trends and new initiatives that our members and clients are currently involved with and the impact those New Directions are having on American higher education.   Overall, and once again, our Seminar received high praise!
This year's Seminar featured an array of diverse panels, representing areas of higher education such as academic affairs, student affairs, human resources, advancement, and more. To kick off the event, Registry President Bryan Carlson hosted the Visionaries Panel and charged the panel of current and former presidents to share their vision of the future as it related to traditional college and universities, community colleges, as well as seminaries.  Panelists on the New Directions in Marketing and Enrollment and The New True North of Advancement in the Academy panels led audience members through in-depth discussions on emerging trends in the recruitment and fundraising fields. On The Evolution of the Provost's Role: Varied Strategies for Economic Sustainability the panelists—all of whom are currently serving in an interim role—discussed the strategies each has used to be most effective in their positions.
Outside of the conference halls, The Registry team planned an array of fun events and surprises. At the Corona Ranch, members were treated to a western rodeo and Mexican Charreada Show (including Escaramuza side-saddle riders). Bryan Carlson shocked the audience when he trotted out on a horse of his own!  Following the show, we broke for dinner in a beautiful open-air courtyard, decorated with lights, live music, and dancers. And as a surprise to everyone—including many of The Registry staff—we even had a tethered hot air balloon that guests could ride in. It was certainly the highlight of the evening.
Here are just a few of the remarks we received from our members after we wrapped up the conference:
"Just a note to say you all 'outdid' yourselves this year with the conference…I came back recharged with additional thoughts and mission for [my interim role]."

 

"That was the best conference since I joined. Without a doubt!"

 

"…My thanks to [The Registry] for another amazing Annual Seminar in Scottsdale! You hit it out of the park again with the location and the wonderful program…"

 

"Well done Registry—As close to a perfect conference as I've attended."
Included below is a brief slide of some of the photos from the event. We encourage you to check out our new Flickr Page here to see even more photos from the Seminar!
As we look ahead to November 2020, The Registry team invites you to Save the Date for the 28th Annual Seminar which will take place in Memphis, Tennessee between November 6th—8th. We will be staying at the historic Peabody Hotel, Memphis' grandest, most legendary hotel. Known as the "South's Grand Hotel," The Peabody is legendary for its charm, elegance, gracious hospitality and rich history. This Memphis icon, opened in 1869, is listed on the National Register of Historic Places and is world-famous for its five resident ducks, who march daily through the lobby.  It's quite the sight! 
I will alert you soon with information regarding hotel reservations.
Information about hotel, travel, and more will be coming out over the months to come. Keep an eye out on your e-mails for messages from me or information in our upcoming newsletters to learn more.
Cheers –
Amy
HIRE AN INTERIM
Searching for an Interim?
Please contact us for more information.
NOMINATE A PEER
Contact the Registry for more information.