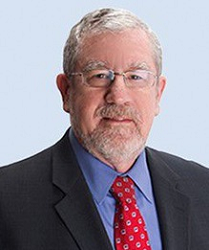 An Update On Registry Advisory Services
Mr. Kevin Matthews
President
Registry Advisory Services
Registry Advisory Services was launched in 2017 and has already achieved a number of significant goals in its inaugural year.  For those who may not have heard, Registry Advisory Services, or RAS, focuses on short term, specialized consulting engagements that utilize the skills of Registry Members.  RAS is viewed as a natural extension of the firm's established business model and as a way to further engage our Members in meaningful opportunities to serve college and university leaders across the nation.
Over the past twelve months, RAS Consultants have completed a number of innovative engagements, including these projects:
Presidential Assessments for Boards of Trustees
Strategic Enrollment Management Plans including Financial Aid Modeling and Analysis
Nursing Accreditation Assessments and Self-Studies
Executive Coaching Plans for new Presidents and Cabinet-level Officers
Budget Analyses for Presidents and CFOs
The RAS leadership model leverages the expertise of Registry Members to meet the needs of client institutions.  In one case, for instance, RAS Consultants are working with the leaders of a newly-created university attempting to fill a cadre of new Deans for its constituent colleges.   As part of those hiring processes, RAS is supplying the institution with Consultants who are former deans to advise on candidate evaluations.
If you would like to learn more about how you can be involved with the RAS team, we invite you to e-mail Kevin Matthews, President of RAS, at info.ras@registryinterim.com. We also encourage you to think strategically about what specific services and skills you might be able to offer RAS as one of its Consultants. 
In the coming 2-3 years, we anticipate growing needs for Consultants with experience in the following areas:
Business management and leadership
Academic leadership and master-planning
Engineering management and planning
Student Services programs and services
Theological school leadership
Regional accreditation self-study planning and advising
Academic, Budget, and Operational assessment planning
Fundraising and Campaign design and development
Athletic program planning, expansion, and management
General Strategic Planning
Also, please keep an eye out for a future article about RAS in which we will present brief case studies about several recent consulting engagements to further illustrate some of these emerging opportunities available to you, our Members.
HIRE AN INTERIM
Searching for an Interim?
Please contact us for more information.
NOMINATE A PEER
Contact the Registry for more information.